welcome to June and the 2nd
Show Us Your Stuff
challenge for the month..
this one is SUPERBLY easy....
TEAL and CREAM..
see told you it was superbly easy..
so i created...
"Spotty Togs"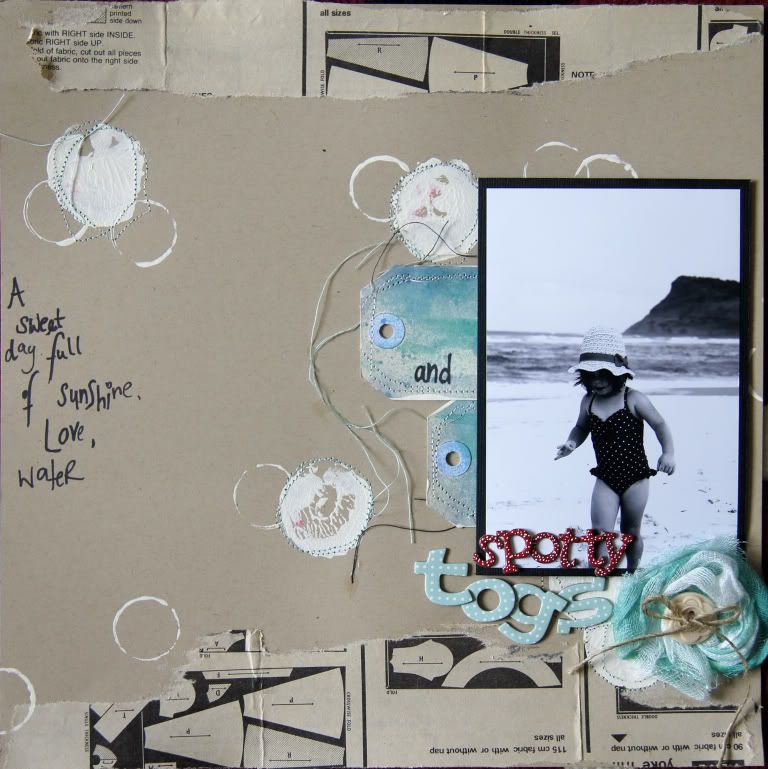 YES J Mack its THOSE togs again....hehehehee...lol... anyho. this was super.. although i'm alittle more dark cream than cream cream..but oh well..lol
closies....
i made the flower.. just misted some muslin with glimmermist and then rolled..glued and added a button.... yay.

just some tags hanging out for fun..and the leftover thread from sewing... i didnt cut it off.. alah Leeann Pearce style... YAY. and the letters.. the SPOTTY ones are actually some A/C thickers that i coloured with nail polish and then dotted with signo pen..super easy...

some paint dots and stitching....and then super simple journalling..
thanks for looking everyone.. dont forget to head over HERE to check out what the other super creative design team came up with for this one.. there is even some clouds and more goodies featured..yay.
so i'm off to get the children from daycare..and then home to NOT watch the football tonight.. oh GASP i know.. i have a project started that i just cant wait to finish..yay. thanks for the amazing comments on my last Louise Nelson post..you guys are gorgeous.. thanks.....